About Scan
Scan Automation Technology was founded in 1981 by Mr. Ching Long Lee and his wife Kitty Lee as an industrial automation and electronic supplies vendor in the city of Tainan, Taiwan. Offering a wide range of products from different manufacturers at the time, Mr. Lee, along with one of his brothers and several of his friends from college, delivered these products on their motorcycles and performed installation and calibration services for their clients around southern Taiwan.
However as an engineer Mr. Lee was more interested in building his own products, and in 1983 Scan began doing so. First came an inductive sensor – the Q16, followed shortly by a family of digital counters. Both the Q16 sensor and the digital counters remain popular today. This small office where these wonderful products were first designed and manufactured now houses our customer service, sales, and a portion of our engineering team. Better yet, several members of the team from early 1980s are still working from this very office.
Today Scan offer over 200,000 products spanning across several product families. Each product we present is built in our very own ISO certified factory in Shenzhen, with tooling and hardware we designed and built in our own machine shop. These products are designed and built to meet the applicable standards including CE, CSA/UL, CCC, RoHS, and REACH. Our operations has repeatedly received recognition for CSR by the government of Shenzhen.
Product Categories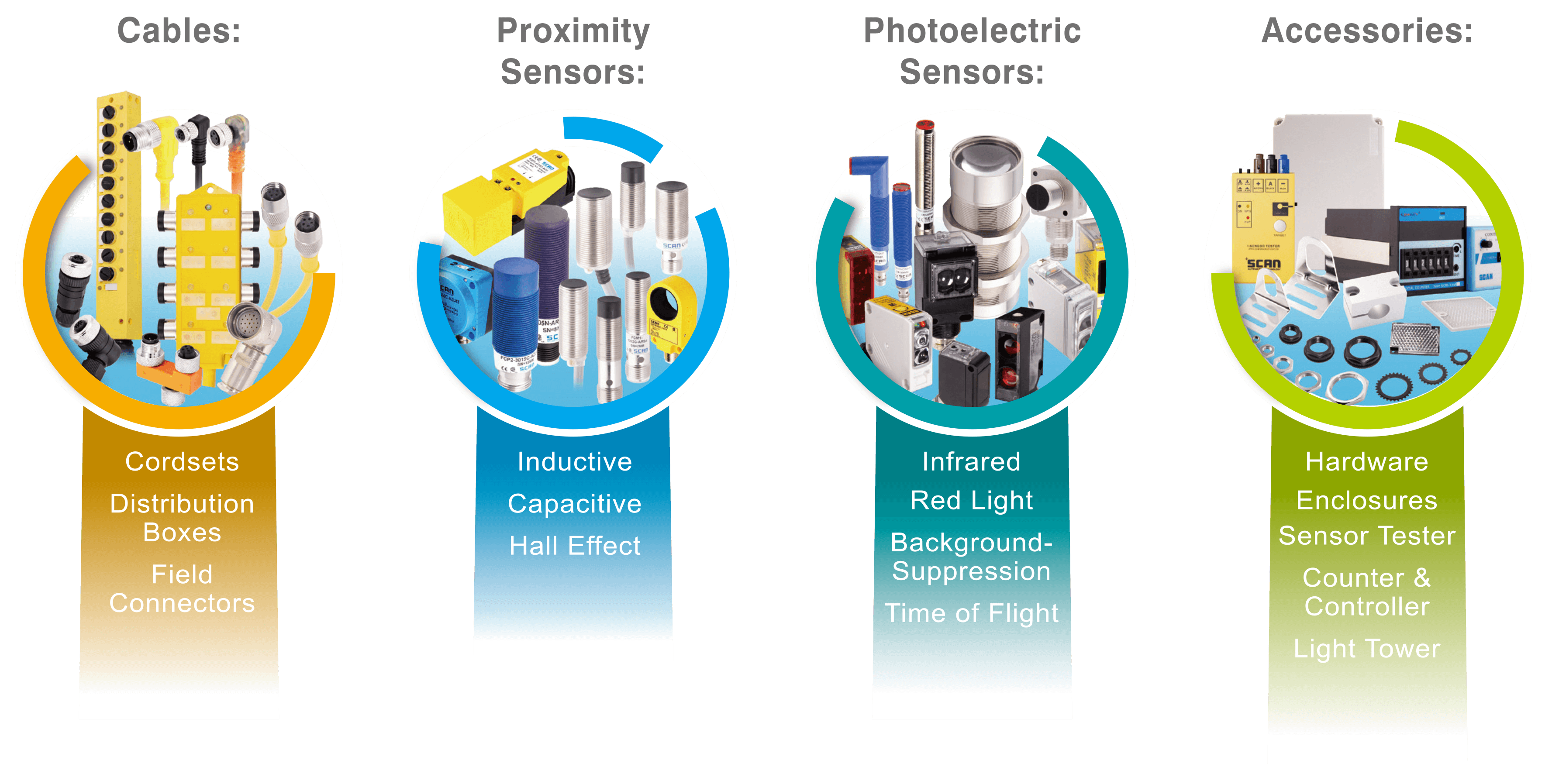 The small family business Mr. Lee created has evolved into the perfect place for sensor research, engineering, and manufacturing. People with different backgrounds and experiences are gathered here because of their love for the technology that goes into designing and making sensors. They are supported by the latest of manufacturing and research technology and has been granted a number of patents relating to materials, design, and manufacturing process of sensors.
This is why we are here. We care deeply about what we do, and here at Scan we unleash our passion for sensor technology to build the next awesome sensor.

Scan Profile
Scan Automation Technology Company Profile
Company Profile
Found1981, Taiwan
Employees*210+
Locations2
Annual Production*(thousand units)
Proximity sensors300+
Photoelectric sensors50+
Cables-related300+
Accessories & others**200+
Cables produced (meters) 1,000+
Certifications, Standards, & Awards
OperationsISO9001:2015
ProductsCCC, CE, CSA, UL (cables), RoHS (2015/863/EU), REACH, CA Prop 65.
ResponsibilityShenzhen CSR
*Based on 2015 to 2018 annual averages.
**Including sensor hardware, digital counters, sensor controllers, and other products.